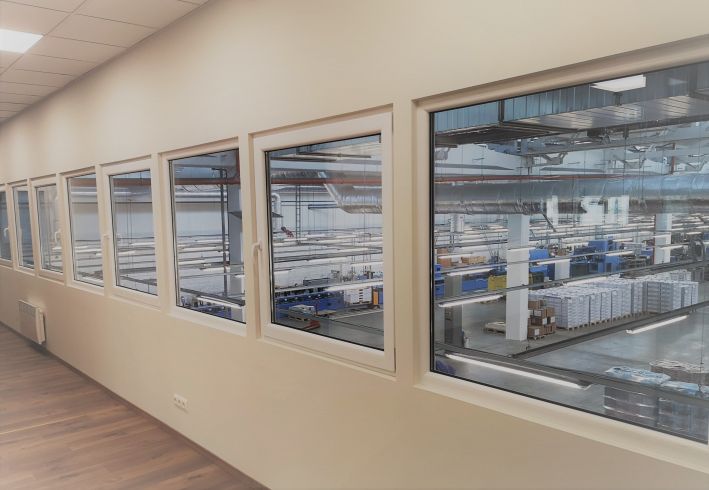 Dear All,
Maybe by changing the title to just ''Update letter'' the Covid will at last leave us?!
But this time we will really start with our news and not Covid.
As you know, we have been relocating all our production to the new facility at Jurkalnes Street. This project, which due to Covid was delayed and had to be divided in small steps all through the year 2020, is finished! We finished the relocation of all the equipment and offices just before Easter to start a new life on April 6. To be frank, not all the boxes are unpacked yet! Even with the shortened shifts (due to Covid) and a lot of people on sick leaves, we manage to do more.
At the beginning of the year we started the improvement of our management systems, including overall quality management with a goal to sertify for ISO 9001. Last week we started an internal auditing process (by internal auditors - volunteers from different departments). That is a new and exciting experience for them! Our employees are engaged also in introduction of 5S culture in the company, which is extremely important for our streamlined process flow and efficiency requirements. We have improved our communication system with all the employees, developing a new internal digital communication platform NEXT. Although the platform is up and running for just a bit more than a month, we really appreciate it and so do our employees:
they have access to all information about the company, its strategy, values and processes;
they get all the news from different departments and management;
they have weekly quality and efficiency reports;
they can share their ideas on how to improve things.
Our people are becoming more engaged and inspired to participate in changes.
Just a week back we published our annual Environmental Sustainability Report, which is available on our web page in case you have not received it already from your contact people at Livonia Print.
We are about to finish another video showing our new production site – you will be informed, when it is ready and we hope it will let you feel like visiting us!
This year's investment plan is also under way – the first two new fast folders from Heidelberg are coming this month, another XL 106-8 colour Heidelberg printing press in July. The reconstruction of the new facility for our digital production department is ready and waiting for the latest technologies from Canon and others to be installed.
This was the good part, and now regarding situation with COVID.
If in March we started feeling positive trends, then now it is back again and the cumulative two week number of new Covid cases has reached 463, that is on average 6% from the tested. 1,8 % from the infected unfortunately die from it.
Our schools are still closed, except for graduates, who have to take their final exams and some small country-side schools in places, where the cumulative 14-day number of new cases does not exceed 220. We feel sorry for children, who have not been able to socialize with their friends since the beginning of November 2020.
Our government and parliament have different opinions about stricter measures or cancellations and their disagreements just add emotions to the overall negative mood of the society. Since the beginning of May the vaccination against Covid has improved and currently about 20 % of the population have received the first dose.
Livonia Print has had some serious Covid cases among our employees and we constantly have about 10 people either Covid sick or absent due to contacts with the infected. The figure is changing, but unfortunately not for the best. We really hope that our employees will accept the vaccination and the situation will improve accordingly.
One last thing is the reminder about our summer vacation from the 21st of June till the 6th of July. Our customer service department, pre-press and purchasing will continue to serve you and prepare for full-speed production in July. Please place your orders for June as soon as possible as the capacities are filling up quite fast.
Have a lovely spring, enjoy each day you can spend with your colleagues and family!
We miss you and look forward to the first possibility to meet you in person!
Livonia Print Team